Use reports to quickly access, analyze, and share important metrics and improve key areas of your Bazaarvoice program.
Here are a few examples of what you can do with reports:
Track the ratings for a specific product, product category, or brand.
Provide executive-level performance summaries for multiple brands.
Inform your customer service team about reviews that moderators have tagged with customer service issues.
Alert your legal department about reviews that might contain legal liability issues.
Track Bazaarvoice moderation approvals and rejections.
Watch this video to learn more about working with Bazaarvoice reports.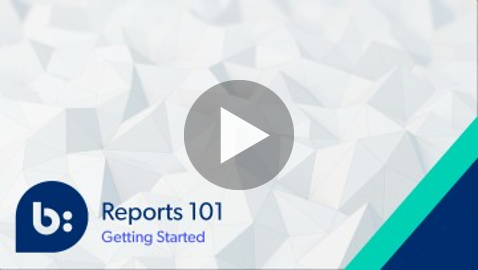 Read the following information about creating and optimizing reports:
Required solutions and roles
To work with reports, you must be assigned the following solutions and roles.
You must have this solution:
and one of these roles:

Reports

Reports Contributor

Reports Administrator

Account Administrator
Capabilities
The following table lists tasks and the roles needed to perform them.
Note: Unless specifically indicated, allowed actions apply to all reports created by any user in the same instance.
Task
Reports Contributor
Account Administrator
Reports Administrator
Create reports
✓
✓
View reports
✓
✓
Duplicate reports
✓
✓
Download reports
✓
✓
Edit reports
report owner only
✓
Delete reports
report owner only
✓
Learn more about how solutions and roles are assigned in the Bazaarvoice Portal.
Personally identifiable information
Reporting capabilities are further refined based on access to personally identifiable information (PII). The PII access permission setting grants active Portal users access to PII.
Note: An active Portal user is any email address associated with an active Bazaarvoice Portal (SSO) user account.
Refer to the following table for rules that apply to sending and receiving reports that contain PII.
| | Who can send? | Who can receive? |
| --- | --- | --- |
| Report does not contain PII | Any active Portal user with access to reports | Any active Portal user |
| Report contains PII | Any active Portal user with access to reports and PI access permission | Any active Portal user with PII access permission |
Users without PII access permission can see reports that contain PII in the Reports List, but cannot take action on them.
Redacted PII
The ability to view information contained in reviews, questions, answers, and comments that contain PII is restricted based on report sender and recipient permissions. If a sender or recipient does not have PII access permission and content is marked with the PII content moderation code, information contained in text and title fields may be redacted from R&R Export and Q&A Export reports.
Get started with Reports
To view and manage reports:
Sign in to the Bazaarvoice Portal .

Select the Portal menu located in the upper-left corner, and then select Reports.

The Reports List appears.

If your company has more than one instance, use the instance selector (located near the upper-right corner) to move between them. Type the name or scroll through the list to select the one you want.

The Reports List refreshes to display reports associated with your selected instance.
Reports List
Go to the Reports List to manage reports. It provides at-a-glance status information about current reports, including:
Date created
Creator email address
Run schedule (daily, weekly, monthly, or none)
Last run date
Next run date, if scheduled
Search for reports
Use the dynamic search field to locate a report by name or creator. As you type, the list of reports narrows to include only that string.
Scheduled reports
If a report is scheduled, then one or more previously generated reports is available to download. An active download link appears under the report title.
More actions
Select More actions to:
Run a report on demand
View report details
Edit a report
Duplicate a report
Delete a report
Note:
Available actions depend on your assigned role. See
Required solutions and roles
for details about role-based capabilities and limitations.
Run reports on demand
Run reports in the Reports List at any time. To run a report on demand, select Run now from the More actions menu. Running a report on demand does not impact its scheduled run days.
Create reports
Select New report to create reports.
Each report begins with a template. Available templates differ depending on your implemented Bazaarvoice solutions.
Templates are grouped in two categories: product and program performance, and data exports.
Product and program performance templates
The R&R Key Metrics and Q&A Key Metrics templates return summarized, calculated metrics to show how your program is performing.
These templates group data by non-numerical fields you choose. For example, to create a report of data broken down by product, include the Product ID or Product Name attributes in the report. Alternatively, to see data aggregated by Brand or Category, add those attributes to the report and remove the Product ID and Product Name attributes. A third option would be to use Brand and Category to break down data and generate a report in which each row would show data by those attributes.
This limited-availability template is designed to help retailers make data-driven recommendations. These recommendations help vendors and brands improve their content and presence on the digital shelf.
Add or remove fields and data to configure the report, such as Vendor Name and other custom product attributes that are important to your vendor management strategy. As with other reports, sorting and filtering the data allows you to improve focus and reduce report size.
Watch this video to learn more.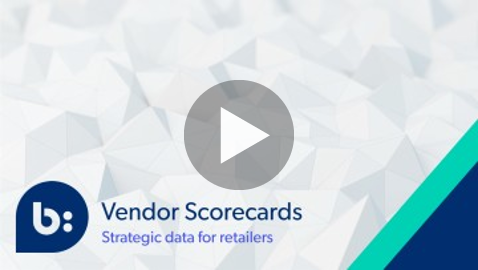 The Coverage Opportunity template highlights two key product metrics: number of product page views and number of displayable reviews. This comparison reveals how to improve product coverage by collecting reviews for products that need them most.
Limited to users with access to more than one instance, this template offers key summary data of volume, coverage, and consumer sentiment across multiple instances.
To support data privacy, users cannot:
Create a Multi-instance Overview report that includes an instance they cannot access
Download, duplicate, edit, or delete Multi-instance Overview reports that contain data for instances they cannot access
Tip: Bazaarvoice recommends you schedule this report on a weekly or monthly cadence.
Available volume information includes:
# Displayable Reviews
# Approved Reviews (Native)
# Family Shared Reviews
# Submitted Reviews (Native)
# Syndicated Reviews (Inbound)
# Syndicated Reviews (Outbound)
# Destination Native Reviews
Available coverage information includes:
# Products
% Products with Displayable Reviews
# Product Page Views
% Product Page Views with Reviews
Available information related to consumer sentiment includes:
Approved Average Rating (Native)
% 4+ Star Reviews (Approved Native)
% Would Recommend to a Friend (Approved Native)
Net Promoter Score
% Detractors
% Promotors
Data exports
These export templates provide native content data in a raw and unaggregated format; each row is an individual review, question, or answer. Select one of these templates to perform custom analysis of your Ratings & Reviews or Questions & Answers programs, and to share interesting data with others in your organization.
Select to export your product catalog. Configure the report to show data about all products, active products, or inactive products.
Use the report to identify areas of your catalog that are missing data. Then, pass the file to people in your organization who can fill in those gaps. You can also use the report to see category or brand IDs that Bazaarvoice may have generated for you.
Follow these steps to create and customize a report from your selected template.
Step 1: What data do you want to see?
Select the data you want to include in your report. Use the arrow controls to move data from Available Metrics to Selected Metrics.
If you are editing a report, previously selected and saved metrics appear in Selected Metrics.
Tips:
Press Shift and select multiple metrics. Then use the arrow controls to move them as a set.
Scroll available report data or use the Search field to locate data to add to your report.
Drag data fields in Selected Metrics up or down to re-order their display in report output.
Step 2: How do you want it grouped?
This step applies only to product and performance reports.
Select Available Dimensions to determine how to group data in your report. Move one or more selections to Selected Dimensions.
Step 3: Narrow the size and focus
Use filters to quickly access common customizations:
Select or specify a date range for included report data
Select common report data to include in the report
Limit the report to specific product, brand, or category IDs
Limit the report to one or more product attributes
Limit the report by product or moderation status
Sort data
Use the Sort by feature to further customize the report. Select up to three data fields on which to sort report output and a sorting direction (Low to High or High to Low).
Set row limits
Enter a value to limit the number of rows included in the report. Limiting the number of rows may improve report focus and reduce file size. The maximum (default) number of rows is 1,000,000.
Step 4: Set delivery options
Specify the report name, format, schedule, and email recipients.
Name the report
Enter a unique name for the report.
Tip: As your list of reports grows, naming your reports consistently will help you sort and locate them.
Select the report format
Select XLSX (Microsoft Excel 2007+) or CSV (plain text, double-quoted, comma-separated values).
If you select XLSX, optionally include report details in the report header. Details include the report name, date range, and other selected filters.
Schedule the report (optional)
Select daily, weekly, or monthly to run the report on a predetermined date.
Select recipients (optional)
By default, you will receive an emailed copy of your report each time it runs.
To send the report to another qualified recipient, enter a valid email address and select Add. Repeat this step for each intended recipient. Bazaarvoice sends qualified recipients an email notification that includes a link to download the report when available.
Note: Qualified email recipients include only email addresses associated with active Bazaarvoice Portal (SSO) accounts.
Run the report
When you have finished making selections, select Run report or Schedule report.
A message indicates that the report was successfully submitted, and the new report appears in the Reports List. The Last run column shows that the report is running.
Manage reports
Depending on your assigned capabilities, you can perform the following report management tasks:
Edit a report
Edit a report to change its name, included data, schedule, or delivery details:
From the Reports List, select Edit from the More actions list in a report row.

Make changes as desired, and then select Save changes.

Note: Changing a report name does not duplicate the report. Use the Duplicate feature to clone a report.
Duplicate a report
To duplicate (clone) a report:
From the Reports List, select Duplicate from the More actions list in a report row.
(Optional) Make changes as needed.

Select Run Report or Schedule report.

A message indicates that the report was successfully submitted, and the duplicated report appears in the Reports List. The Last run column shows that the report is running.
Delete a report
To delete a report:
From the Reports List, select Delete from the More actions list in a report row.
In the dialog box that appears, select Delete to confirm.
Download a report
After they have run successfully, reports are available for download. To download a report:
From the Reports List, select the active Download link under the report title.

If more than one report is available, select the version you want to download.

The report downloads to your default downloads directory.
Common questions
View the following questions and answers to better understand reporting features, details, and limitations.
Depending on your assigned roles, you may not be able to perform some tasks. For example, you may not be able to edit or delete reports that you didn't create, or share reports with certain email recipients. Read more about capabilities.
Available templates differ depending on which Bazaarvoice solutions you have implemented.
No. Because users must accept the Terms of Use (displayed when enabling the PII Access permission), we cannot auto-assign PII Access to any users on your behalf. Users with the Account Administrator role and PII Access permission must grant PII Access permission to other users.
You may be excluded from reports containing personally identifiable data (PII). Find out why.
It depends on how much data is included in the report. Reports with large data sets may take up to 24 hours to run.
Reports expire 14 days after they are generated.
Typically it takes 48 hours before raw data and metrics are available in reports. For example, if a review is moderated, the data may not be available in our reporting systems for 24 hours. It can take another 24 hours before aggregated metrics can be built on that data.
Good use cases for this report include:
Performing custom analysis with Excel PivotTables, to conduct on-demand exploration and analysis of native Ratings & Reviews data.
Viewing native reviews collected during a specific time period, a specified product category, or another dimension.
Filtering for specific content codes. For example, your legal department might want to review data associated with content codes tagged "LI" for legal issues.
Discovering themes across reviews that reveal trends or quality issues.
Similar to the R&R Export template, the Q&A Exports template is appropriate for custom exploration and analysis.
Note: Data available from this template excludes Connections Premium content.
Begin typing in the Search box under Available metrics.
Select an item (Shift+select for multiple items), and then use the arrow controls to move it to My report.
Portal reports typically provide improved features compared to legacy Workbench reports. The following table lists Workbench reports and the Portal reports nearest in functionality:
| Workbench Analyst Report | Portal Report |
| --- | --- |
| All Reviews Report | R&R Export |
| All Reviews by X Report | R&R Key Metrics |
| All Questions & Answers Report | Q&A Export |
| All Questions & Answers by X Report | Q&A Key Metrics |
Troubleshooting
The following information may help if you encounter errors when using reports.
You may receive this error when opening Microsoft Excel Windows 10 Pro or Windows 7. Follow these instructions
to resolve the issue.
You may receive this error if your computer does not have sufficient memory or processing speed to open a large Excel file. Try running the report with a smaller data set. If that's not an option, try running it from a computer with more RAM or a faster processor.